Carnival
Carnival started as a Roman Catholic rite to celebrate Lent. The Carnival Season is a holiday period during the weeks before this traditional fastening. This period of celebration and partying has its origin in the need to use up all remaining meat and animal products such as eggs and butter before the fasting season. The celebration of Carnival ends on Shrove Tuesday or Vastenavond in Dutch, meaning the evening before fasting, which is Ash Wednesday.
It wasn't until 1969 that Curaçao's Carnival started to gain the popularity it enjoys today.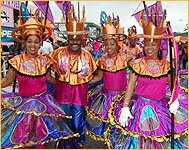 After the official opening day of the Carnival season Carnival groups assemble and organize different events to raise money for their participation in the Gran Marsha (`The Grand Parade`). One of these events is a Jump up where they and go around dancing in the streets following musical bands, wearing T-shirts so the audience can recognize the name of the group.
One of the main events before the Parades take place is the Tumba Festival. The Tumba Festival is a four-day musical event where the best local composers, singers and bands from all over the island compete for the honor of having their piece selected as the year's official Carnival road march Tumba song.
Also, a separate Children's Tumba Festival allows aspiring young singers to show off their talent. The winning tumba becomes the road march song for the childrens carnival parade.
The main parades, the product of months of enthusiastic preparation, feature hordes of fantastic floats, costumes, and characters, plus the Carnival Queen and Prince and Pancho elected during contests. There are two big parades, one on Sunday in the daytime - Curaçao's Gran Marsha - and the Marsha di Despedida (`the Farewell Parade`) on Tuesday evening. The Marsha di Despedida is very special, the floats are adorned with sparkling lights and at the end of the parade at midnight, Rei Momo (a big straw-filled doll) is burned, marking the end of Carnival.
Carnival Characters:
Carnival Queen: Represents Mother Earth, the symbol for fertility and peace.
Prince and Pancho: They receive the city key from Lieutenant Governor to rule Willemstad during the carnival season.
Rei Momo (King Momo): As symbol for infertility, sins, and bad luck, this straw-filled doll is burned in a spectacular ritual at the end of Carnival.
The children's Carnival has it's own Queen and Prince and Pancho.
For more info on the Carnival visit www.curacaocarnival.info and for more info on the Tumba Festival visit their site
Carnival dates in the future:
| | |
| --- | --- |
| Year | Gran Marcha |
| 2008 | February 3 |
| 2009 | February 22 |
| 2010 | February 14 |
| 2011 | March 6 |