Biggest (Dutch) naval ship visiting
Published: June 14, 2007
Source: Amigoe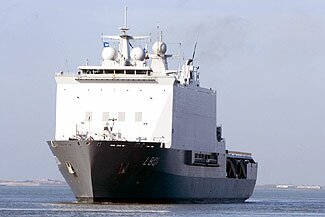 Archived picture of the Johan de Witt. Photo: Koninklijke Marine
WILLEMSTAD – The landing platform dock (LPD-2) Johan de Witt is the biggest ship of the Royal Navy.  The ship is 176 meters long, 29 meters wide, and from keel to mast, 53 meters high.  The ship will moor at the Megapier this coming Friday at 08:00.  The navy wants to test the operational usability of the fleet's newest acquisition in warm weather conditions.   
Politics announced in the 'Defense Budget 2000' that an ocean-going head quarters is very much needed for missions far away from the Netherlands and in regions where harbours are not always safe or accessible.   Building a second LPD was the solution.  The shipbuilding yard in Vlissingen , 'Koninklijke Schelde Groep', used as much as 6500 ton steel to build the Johan de Witt.  They took three years to do this.  
With extensive command-, communication-, computer-, and information technology facilities, the Johan de Witt can function as commando head quarters for an (inter)national staff, yet with the main purpose for amphibian operations.  The ship is able to embark, accommodate, and assist a full-equipped marine battalion during the landing's phase.  In this amphibian role, the LPD can stay at sea for 30 consecutive days without provisioning.   During amphibian operations, the ship can also supply the marines with water, ammunition, food, and medical care for ten days.   
With helicopters, two big- and four smaller landing vessels, the ship has an extensive strategic transport capacity.  The ship is also equipped with full medical capacity.  These transport- and medical capacities make the ship suitable for delivering humanitarian assistance or evacuation operations.  
The LPD-2 started her test voyage after she was christened in May of last year.  Because the ship has to operate everywhere in the world and under all climatic conditions, it is also necessary to conduct tests under cold and warm weather conditions.  In addition to several tests near Brazil , the ship will also conduct a big test in Piscadera Bay next week Tuesday.  After the ship is done with all the tests, it will officially be engaged.  Only then can the Johan de Witt use the designation Her Majesty's (Hr.Ms.).